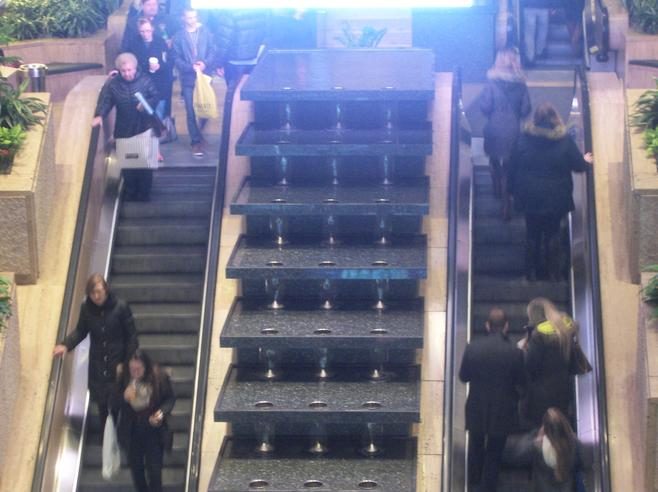 2/7/2016
By Joy Lynn Clark
Chicago, IL
My son and I decided to visit Water Tower Place on North Michigan Avenue.  I have to admit, I have been to this shopping center a thousand times and I even worked here as a retail salesperson when I was much younger.
When I was in high school I would meet my ETHS friends here. It was nice and central for all of our suburban travelling.
I thought the entrance was so grand.  We would meet in the entryway and ascend the escalators to where we could run around and be proper mallrats. Even the escalator was jam packed with people.  We would ride chat it up while we were impressed by the glitter of coins and dancing water.
Fast forward to 2016.  My son and I entered on the east side by the hotel.  We had just returned from The MCA (Museum of Contemporary Art).  I took my watch to the Fossil Store to get the battery replaced (which is the real reason why I still have to come).  However, my son always enjoys the Lego Store.
I was pretty beat after all of this so we decided to relax in the seating area.  We opened our packed lunches and I started to tell my son about all of my visits to Water Tower Place throughout the years.  As we were seated next to Macy's I looked down to the entryway and I was underwhelmed.  At first, I couldn't put my finger on it.  Then I realized, no change.  There are no coins glistening underwater cascading up and down the escalator.  Then I looked again.  Not only is there no change.  No dancing water.  It just looks like water flowing down a staircase.  Not even like a waterfall, a water drip.  C'mon it's Saturday.