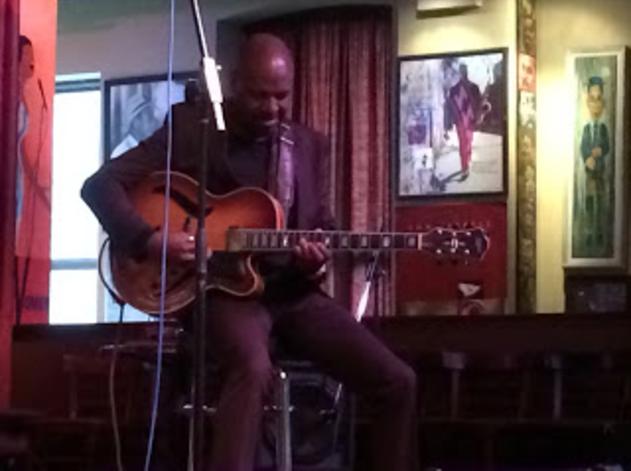 Broom at the Jazz Showcase
9/22/2015
I was making my way down the slightly snow covered sidewalk when I started to think about the Jazz Showcase. I had been here years ago looking for a job as a cocktail waitress on the day that Quinten Marsalis happened to be there. I didn't interview well. I was too busy staring at all of the photographs on the wall and the stage. I didn't maintain eye contact. Oh well, that was an awesome spot. I am going to have to come and see a show one day. As I made my way down the street toward the club I knew I was gonna need some coffee so I stopped in the coffee shop. I noted that the last time I made this trip (looking for a job) the park near the coffee shop is now a parking lot. I make my way into the club. The history of the club takes over my senses once again. I stare at all of the signed photographs and posters. I look at those same old guys that were there the last time. They must own the joint.
I sit down at the table with some students from my school. One was in my class; an English major and the other was her date. He might have been her boyfriend or something. The waitress comes along and they order wine and tea; I turn a little red as she notices my coffee cup.
I decide to take some pictures. I shoot the landscapes of the room to remind me of how it feels when it is time to write this. I notice a young guy with a big natural talking to the old guys. Once the performance starts I am made aware that this is Makaya McCraven. Maybe I should ask if it's ok to take pictures. One of the old guys told me it's ok without the flash. I turn my flash off. It is still a bit early. More people arrive. Although this couple is nice, I am going to need a better spot so I move to a solo couch and get comfortable.
Since the show hasn't started yet I make my way into the bathroom. I quickly handle my business and hear a voice over the microphone. Damn, I am missing it. I take the long way around the back of the crowd to my spot.
The speaker tells us that the Jazz Showcase has been around for sixty-seven years and that they started on Roosevelt Road. He also tells us about how some of the students who came here also got their start in music playing in this club and gives us a lineup of some of the school groups that are soon to play. The speaker exits.
Bobby Broom takes the microphone and tells us that the speaker was Joe Seagal. Broom also mentions that he got his break here. Eventually he travels to New York and recorded what was called LP's at the time. Then Bobby Broom proceeds to announce the other players in his trio. He mentions Makaya McCraven is on the drums and, Dennis Carrol is playing upright bass. My father, who is a drummer, knew of Makaya McCraven.
"I Can See Clearly Now", is what Bobby Broom said just before he started the familiar tune. This stayed familiar for just a few minutes. His guitar was sweet and happy like how it should be for this song. Then there is a bass solo. It goes up and down the scales. Then Brooms' guitar comes back and they begin to have a conversation. Then it goes into an all-out jam and in my style of music we call this a freestyle. I perform my vocals to electronic music. The transition was so fluid like a blend in an electronic mix that I thought we were going into a new song. Now Bobby Broom's guitar is getting in where it's fitting in literally. The drums change from a mellow sounding brush to a trot just short of a march. Then the bass facilitates a fall and rise. Then Bobby Broom returns us to clarity and I realize this is the same song. The rain has cleared and the sun is shining. Then bang on the drum, it finishes.
Chestnuts, it went right over my head. I was thinking maybe I'm just a squirrel trying to get a nut. Then Bobby Broom told us that a chestnut is a standard. Oh. Then Makaya McCraven's drums start the song off. Next, Dennis Carroll's bass enters. Thirdly, Bobby Broom's guitar enters singing. This particular standard is called Sweet and Lovely. This song is up-tempo and I wrote down that the drums had a latin feel and then it changed. I felt like I was moving quickly through the city and I was crossing the street with sixteen seconds left for the walk signal. That ain't really a walk. But that was a memory about being quick. This is more like a dance. Then Makaya McCraven's drum starts to sound like a jungle track. I started to get the feeling of anticipation. Then wait. Then we get a melody with Bobby Broom's guitar and Dennis Carrol's bass. We have arrived at our destination. Finally I am taking a casual walk, no longer in a hurry but still about town. Here we are.
My Shining Hour, Bobby Broom tells us that this is for his cd that he is recording next week and that he has a new arrangement. I get a good feeling as the music takes me to my favorite place. The Lake. I am on a date (one of my other favorite activities). Bobby Broom's guitar is my voice and Dennis Carrol's bass is my date's voice. "I thought we were going to relax on the beach and get a tan and you convinced me to swim, I am even going to get my hair wet", as my thoughts echoed to Bobby Broom's guitar. He almost convinced me to take off my top but, I had to remind him that we are in Chicago. So Dennis Carrol pulls out his bow, and my date replies, "yeah we are in Chicago". My date and I dry off, and picnic with wine, cheese and grapes. After some banter between Broom's guitar and Carrol's bass I realize that we are going to have to walk this food off. So we stroll past the planetarium and through the museum campus.
I knew the next song and I was pretty upset that I couldn't remember the name of it. I thought that Then the warming starts to take over me. I ask the waitress for bottled water. She brings the water. I pay the bill. Then the song finishes and I am mad that I did not wait. I wanted more. I wasted some experience for a request, I should have stayed thirsty for a bit longer.
Then Bobby Broom lets us know that he has CD's available for sale at the bar. The players exit the stage. I start to imagine myself being up there. Can I stay awhile? I take out my train schedule and, I can make it if I go now.
I pack up my things, throw the bottled water into my bag and bundle up. It is winter, of course. I make my way toward the exit where I bid farewell to Joe Seagal and the other two old guys. Joe Seagal says, "Thank you" from his perch on the bench. That bench looks important. I notice the artwork of the dancing people on the wall near the door and I am back on the street.
I first hurried to the train station on Jackson. I immediately noticed that we are on the Sunday schedule and I have a much longer wait than I first thought. I figured I'd just walk to Millenium Station where will be more people waiting. I considered the metaphors I am going to use in my review. I watched the time count down on the crosswalk. I noticed all of the stores that I passed as I walked down Michigan Avenue. I passed the symphony building where I noticed a flamenco singer is performing.
As I looked at the buildings, the park, and the entrance to the garage I can hear the music of the city. I thought about how Bobby Broom hears it on a deep level as he plays with his eyes closed. I perceive his 30 plus years of experience as a jazz guitarist as extra-sensory.
About Post Author